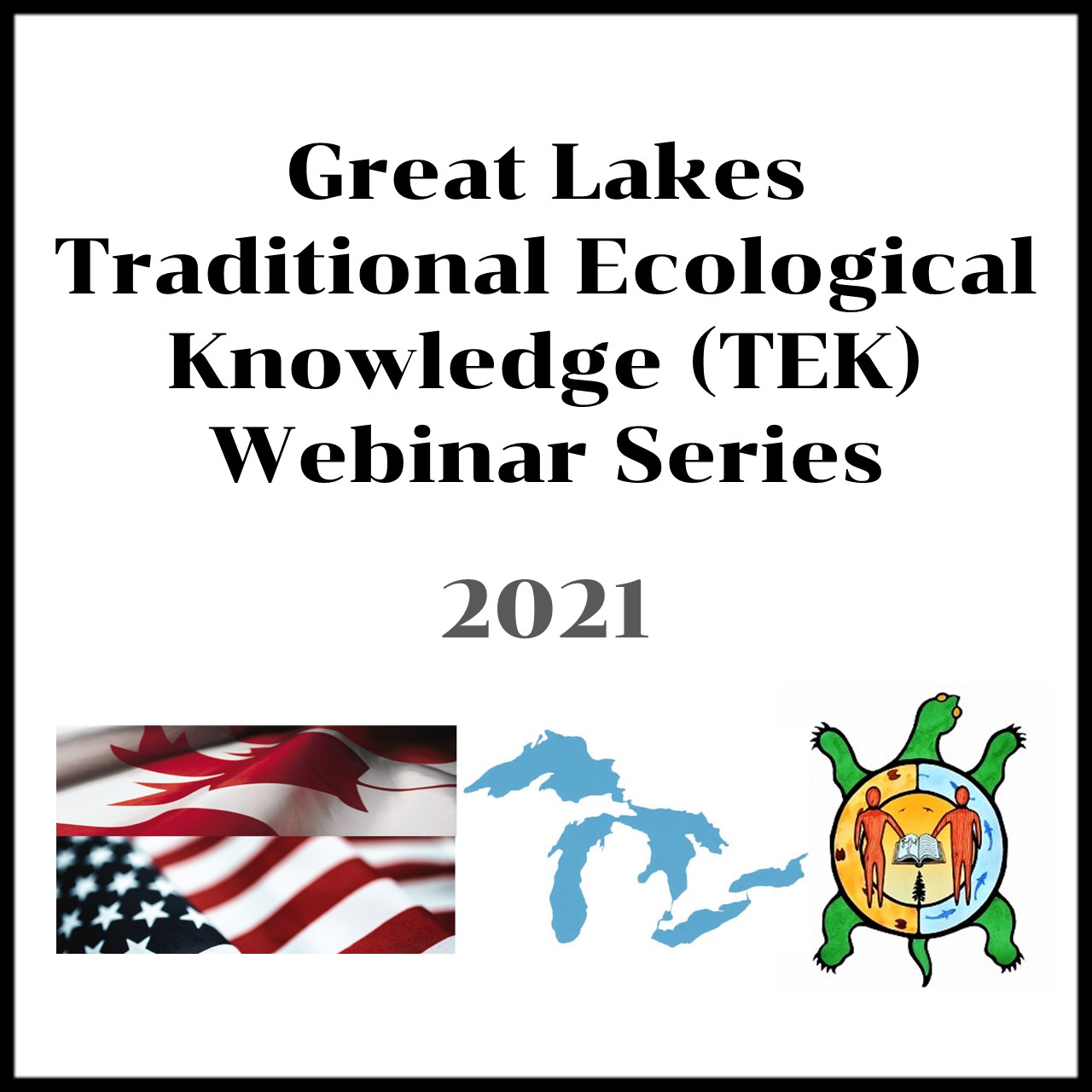 From May 26 – June 30, 2021, the Science Annex Traditional Ecological Knowledge (TEK) Task Team of the Great Lakes Water Quality Agreement is co-hosting a weekly Great Lakes TEK speaker series with the University of Minnesota – Twin Cities Department of American Indian Studies.
Register for the series (Zoom).
This series brings together Tribal, First Nation, Métis, State, Provincial, Federal, academic, non-governmental and other participants in the U.S. and Canada, within and beyond the Great Lakes, who share an interest in the role of Indigenous knowledge and how to appropriately bridge knowledge systems to guide protection and restoration of the Great Lakes and connected ecosystems and lifeways.
The series is co-organized by GLWQA TEK Task Team Co-Leads Jessica Koski (U.S. Department of the Interior Bureau of Indian Affairs Midwest Region) and Andrew Preston (Environment and Climate Change Canada), and GLWQA TEK Task Team Member Jessica Dolan, Ethnobotanist on contract with the Saint Regis Mohawk Tribe Environment Division, Adjunct Professor at the University of Guelph Department of Sociology and Anthropology, and member of the Conservation Through Reconciliation Partnership based at the University of Guelph. The GLWQA TEK Task Team is supported in part by the Great Lakes Restoration Initiative (GLRI).
Each session will include 2-5 speakers followed by Q&A moderated by Dr. Michael Dockry, Assistant Professor at the UMN-Twin Cities Departments of Forest Resources and American Indian Studies. Dr. Dockry will play a valuable role as moderator, helping to guide cross-cultural dialogue related to TEK, with expertise in American Indian and Indigenous Natural Resource Management, Tribal Partnerships, Integration of TEK and Western Ecological Knowledge, Strategic Foresight and Planning, Institutional Diversity, and Environmental History.
The series will take place virtually in six weekly sessions on Wednesdays at 12:30 – 2:00 pm CST / 1:30 – 3:00 pm EST:
May 26: TEK Guidance Initiatives in the U.S. and Canada
June 2: Braiding Ways of Knowing: TEK Theory, Methods & Ethics
June 9: TEK in Great Lakes Areas of Concern (AOC) Priority Setting Processes
June 16: TEK Guided Research to Address Community-Based Chemical Concerns
June 23: Restoring Culture & Seed Knowledge through Native Plant Restoration
June 30: Bridging Knowledge Systems for Monitoring & Climate Adaptation